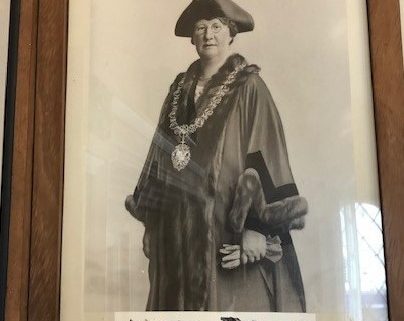 First Women Mayors – and the Loss of a Popular Male Mayor
In 1933 Edla Marian Norton (nee Eklund) became the first woman Mayor of Shaftesbury. Historian Dr. Jaime Reynolds is writing a book about the first women Mayors in Britain and contacted Gold Hill Museum in search of information about Edla and the Norton family into which she married. Edla's grandparents were Swedish though she was born in London in 1879. In 1917 she married John Archibald Norton in Brighton. In 1918 some women were given the vote but it was not until 1928 that all women were enfranchised, on the same terms as men.
The Nortons were prominent figures in local politics and Methodism in Shaftesbury. Edla's husband was Mayor in 1928 and again in 1945. George Edmund Norton was Mayor in 1937, according to the illuminated list in Shaftesbury Town Hall. (Thanks To Town Clerk Claire Commons for images of this list and of Edla Norton.) The Nortons lived at 2 Ivy Cross until John died in 1956 and Edla in 1957. (Thanks to Chris Stupples for these details.) If anyone has any further information of interest to Dr. Reynolds, please email enquiries@goldhillmuseum.org.uk. and we will be pleased to forward it.
The second woman Mayor of Shaftesbury was Kathleen Olive Cole in 1952. The first woman Mayor in England was Elizabeth Garrett Anderson, best known for her campaigns to enable women to practise medicine and exercise the right to vote. She became Mayor of Aldeburgh in 1908.
Shaftesbury has just lost one of its noblest citizens in former Mayor Ray Humphries MBE. In common with many other voluntary organisations in the town, Gold Hill Museum benefited from strong practical support from Ray, in our case as a regular steward and occasional handyman. He cleared gutters, shaved the bottom off a swollen door, fitted a new extractor fan, helped fix the Shaftesbury locomotive name-plate to a very uneven wall, made an elegant plinth to make the donations box more noticeable, and drove his van to Sparkford so that we could recycle an unwanted display case from the Haynes Motor Museum. The display case is now in the centre of Room 8. Everything was done with immense patience and good humour. Not so much a hard act to follow as utterly impossible. Lockdown permitting, the cortege will pause outside the Town Hall at noon approximately on Tuesday 10 November when the Town Band, for which Ray was a talented percussionist, will play. Our sincere condolences to Ray's family.
https://goldhillmuseum.org.uk/wp-content/uploads/2020/11/Edla-Norton-Mayor-of-Shaftesbury-1933-3.jpg
404
404
Ian Kellett
https://goldhillmuseum.org.uk/wp-content/uploads/2015/06/gold-hill-museum-header-90x380.png
Ian Kellett
2020-11-02 16:16:55
2020-11-02 22:11:48
First Women Mayors – and the Loss of a Popular Male Mayor