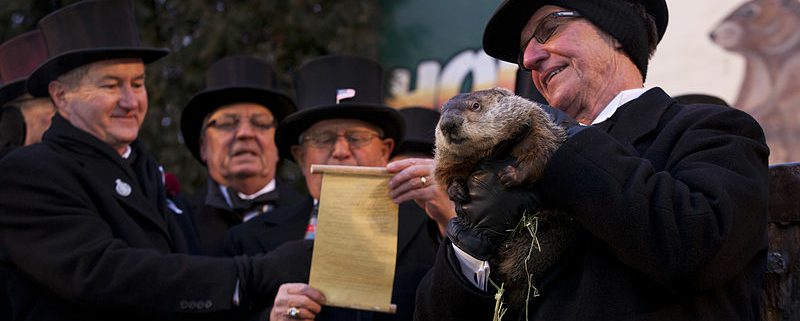 Groundhog Day Moment As January Lecture Postponed For Second Time
As the highly-infectious Omicron variant takes hold, it has been decided to postpone January 2022's talk by David Beardsley on "Sir Merton Russell-Cotes and the Development of Bournemouth." This was originally scheduled to coincide with the centenary of Sir Merton's death in January 2021. But, just as in 1993's film "Groundhog Day" the curmudgeonly TV weather reporter Phil Connors (beautifully played by Bill Murray) wakes up every morning in the Cherry Tree Inn to the strains of Sonny and Cher's "I Got You Babe", it seems that every January we have to cancel David's lecture.
In case you haven't seen the film (spoiler alert) it's likely to be repeated, several times, on 02 February, every year. This is when the people of a small town in Pennsylvania consult their weather oracle, Punxsutawney Phil, as to the prospects of an early or late spring. If Phil, a squirrel-like rodent known also as a woodchuck, sees his own shadow, then he will retire to his burrow and there will be six more weeks of winter. In the film Bill Murray finds himself trapped, first by a storm he failed to predict, and then by a time loop where every day is exactly the same, no matter what happens the previous day. Everybody else in Punxsutawney is oblivious to this eternal repetition. (Big spoiler alert) Phil Connors can commit crimes or even suicide, and still wake up to Sonny and Cher. If this sounds ridiculous, it does in fact lead to an engaging blend of comedy and moral philosophy, and allows the opportunity for the cynical Murray character to earn redemption. Shades of Ebenezer Scrooge in A Christmas Carol. The film is now rated on a par with the uplifting Christmas favourite "It's a Wonderful Life" and the expression "Groundhog Day" (meaning a monotonous, unpleasant and repetitive experience, like the Covid pandemic) has become part of the English language.
The weather lore behind the Groundhog Day ceremony probably arrived with Dutch or German settlers in the seventeenth century. According to Wikipedia, Punxsutawney Phil has forecast 104 long winters and 20 early springs. He's not been very accurate.
Dickens wrote "A Christmas Carol" in six weeks and determined to sell the first edition for 5 shillings. Because the illustrations, by John Leech, were hand-tinted, an army of colourists was required and there was very little profit for author or publisher.
The Trustees of The Shaftesbury & District Historical Society would like to wish all members, volunteers, friends, and readers of this News Blog a very happy Christmas and a healthy New Year.
https://goldhillmuseum.org.uk/wp-content/uploads/2021/12/Groundhog-Day-Punxsutawney-Pennsylvania.-Photo-by-Anthony-Quintano-2013.jpg
533
800
Ian Kellett
https://goldhillmuseum.org.uk/wp-content/uploads/2015/06/gold-hill-museum-header-90x380.png
Ian Kellett
2021-12-21 18:03:02
2021-12-21 20:21:54
Groundhog Day Moment As January Lecture Postponed For Second Time