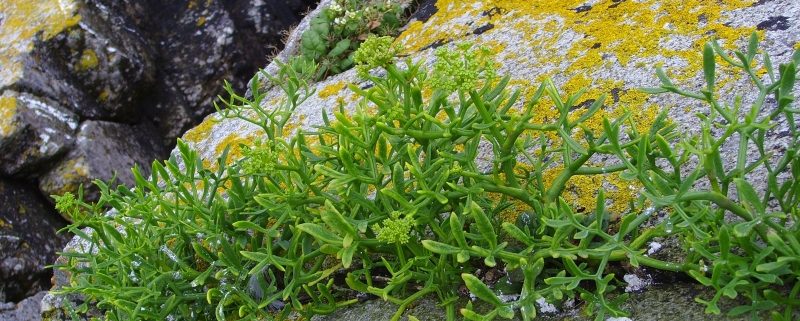 Tudor Accident of the Month: Gathering Rock Samphire
June 2019. Rock samphire is a succulent coastal plant, nutritious to eat but dangerous to harvest. In Shakespeare's King Lear, Edgar and Gloucester look down from a cliff and spot 'one that gathers samphire, dreadful trade'. John Pantridge was practising that trade at Freshwater on the Isle of Wight on 18 June 1576 at a place on the cliffs called 'peppers mede', perhaps near Old Pepper Rock. He fell 170 feet onto the rocks below and broke his neck. One month later, on 20 July, the same fleshy, spicy treat lured John Turle to his doom at Fairlight, Sussex. He fell only 13 feet, but it was enough to break 'his hed and scull'. And women as well as men braved the coast for samphire. At Weston-super-Mare in Somerset on 27 May 1587, Joan Davys fell on a rock and broke her neck when gathering 'Sampyer'.
Professor Steven Gunn of Merton College Oxford is co-director of the 'Everyday Life and Fatal Hazard in Sixteenth Century England' Research Project. On Tuesday 24 September at 7.30p.m. in Shaftesbury Town Hall Professor Gunn will deliver the Teulon Porter Memorial Lecture, when he will focus on 'Everyday Life and Accidental Death in Tudor Dorset and Wiltshire'. This talk is free to members of The Shaftesbury & District Historical Society while non-members may pay £5 at the door.
https://goldhillmuseum.org.uk/wp-content/uploads/2019/06/Perce-pierre-or-rock-samphire.jpg
600
800
Ian Kellett
https://goldhillmuseum.org.uk/wp-content/uploads/2015/06/gold-hill-museum-header-90x380.png
Ian Kellett
2019-06-22 17:24:09
2019-06-22 17:24:14
Tudor Accident of the Month: Gathering Rock Samphire