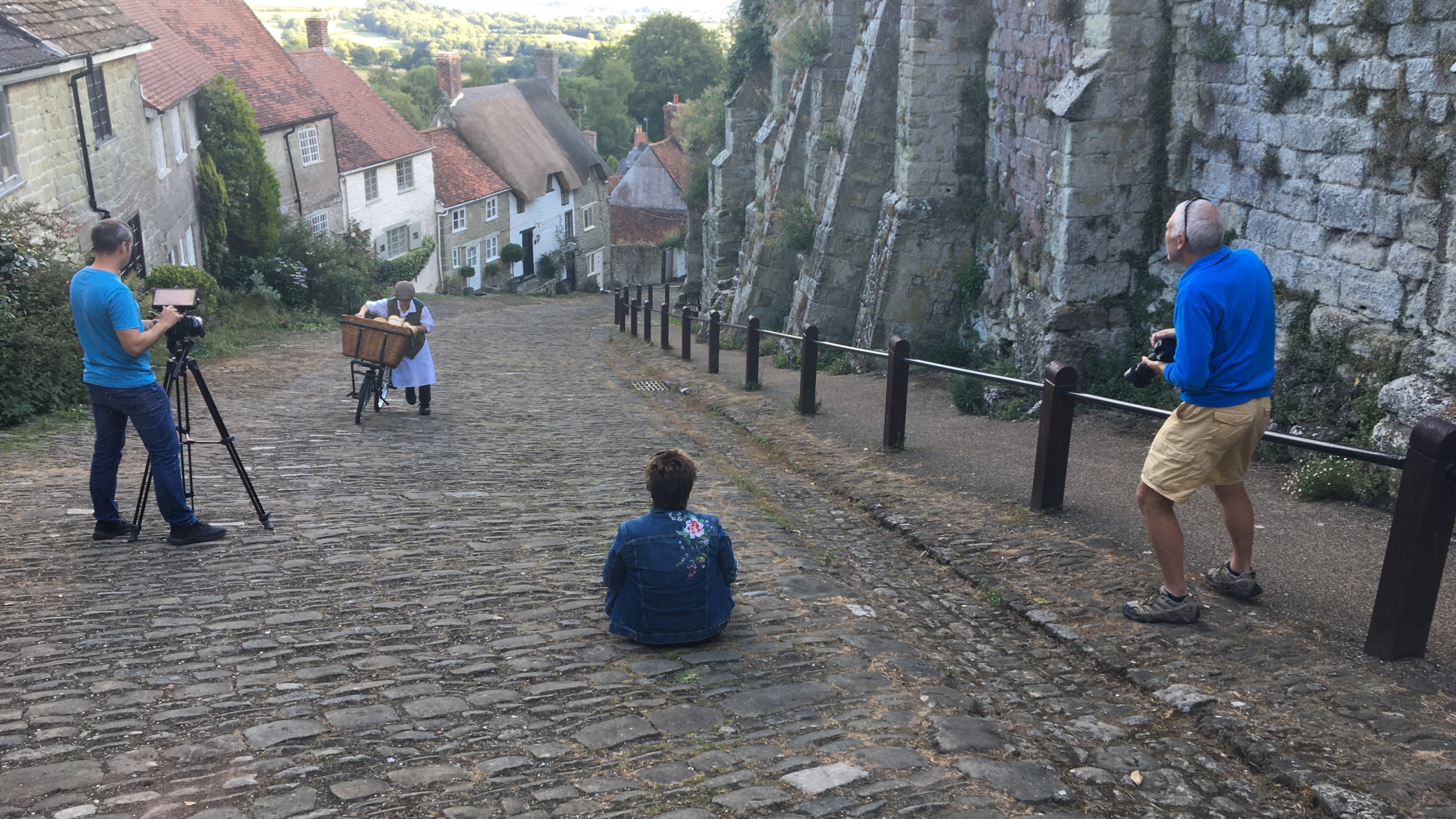 Baker's Boy Delivers to Gold Hill Museum
Forty-seven years after it was first made, homage continues to be paid to Ridley Scott's Hovis ad. This time on 20 July 2020 the baker's boy delivered fresh bread, not to "old Ma Peggotty's place (t'was like taking bread to the top of the world"), but to the gate of Gold Hill Museum.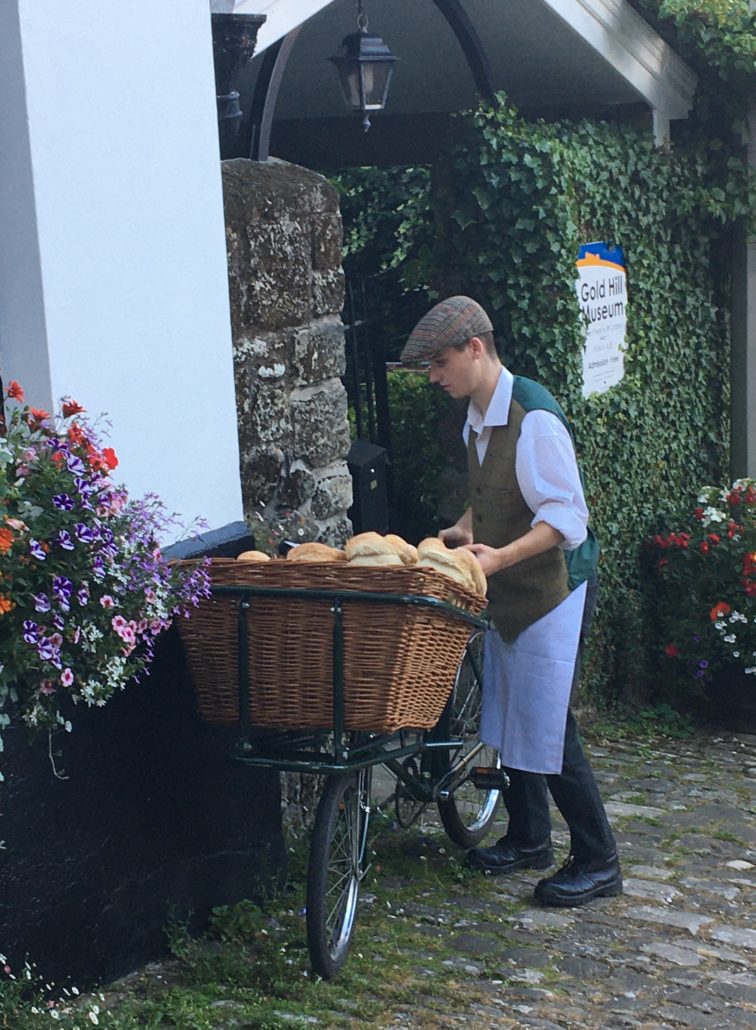 The Harbour Media team from Weymouth, led by Justin Glynn, were on an almost deserted Gold Hill to shoot some footage for the Visit Dorset website. The few passers-by, mainly local residents, impressed with their friendliness and willingness to co-operate with the demands of film-making. The bike, not alas the original from 1973 but one used by the owners of Hovis for subsequent publicity, was borrowed from Gold Hill Museum. Justin's son, playing the star role, patiently pushed the leviathan up the same stretch of hill for several retakes, and did not require a stunt double when taking his feet off the pedals on the way down.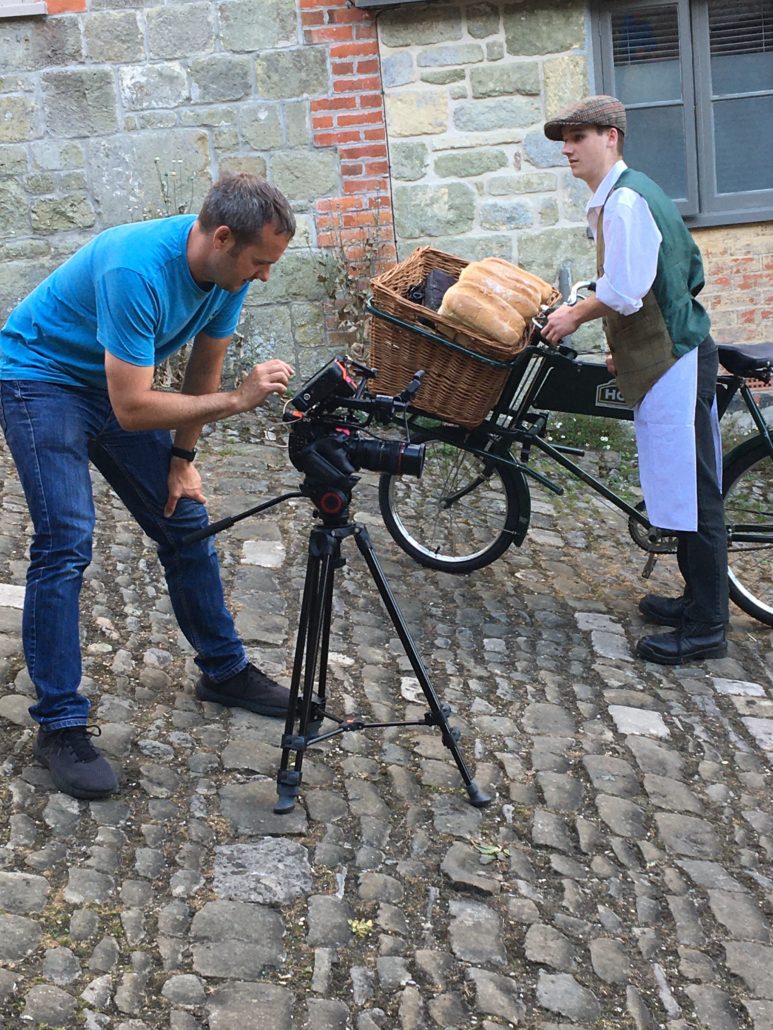 Memorabilia from the making of the 1973 ad can be seen in Gold Hill Museum (when it reopens) including material kindly on temporary loan from the family of advertising executive Dennis Dunkley. Hovis appointed the Collett, Dickenson and Pearce advertising agency in 1970 and it was they who devised the slogan "As good for you today as it's always been." This chimes perfectly with the atmosphere and tone of the Ridley Scott masterpiece, though this was not Dennis's favourite in a long, prize-winning series. One of his tasks was to ensure that the bread always looked its best for the camera in studio shots, and Dennis worked with both of the Scott brothers, Ridley and Tony, before they departed to make Hollywood blockbusters.
https://goldhillmuseum.org.uk/wp-content/uploads/2020/07/Team-Harbour-Media-on-Gold-Hill-scaled.jpg
1440
2560
Ian Kellett
https://goldhillmuseum.org.uk/wp-content/uploads/2015/06/gold-hill-museum-header-90x380.png
Ian Kellett
2020-07-21 16:12:37
2020-07-21 16:12:39
Baker's Boy Delivers to Gold Hill Museum