Enmore Green War Memorial Unveiled One Hundred Years Ago
At 4p.m. on Sunday 09 October 1921 a Memorial to the men of Enmore Green and Sherborne Causeway who gave their lives in the 1914-18 Great War was unveiled by Lady Stalbridge. Virtually every parish in Great Britain had sent men to the war who had not returned, and who would be buried in or near the battlefields where they served. It was government policy that bodies should not be repatriated, with the notable and symbolic exception of the Unknown Warrior, who was interred in Westminster Abbey on 11 November 1920. The overseas cemeteries of the Imperial (later Commonwealth) War Graves Commiss- ion were set out with a beautiful and standardised rigour, and are lovingly maintained to the present day. There was no prescribed uniformity for local parish War Memorials back home, so there is an endearing variety of designs for the monuments, which for many Britons would have been the only accessible place of Remembrance for their relatives.
The monument at Enmore Green is in the practical form of a lamp post, with a plaque bearing the names at the base. All of these names will have been researched and recorded by the volunteers of Shaftesbury Remembers.
The names may be more easily read on this image of the outside of the original programme of the Dedication Ceremony, kindly provided by Nigel Garrett and photographed by Ann Symons at Gold Hill Museum.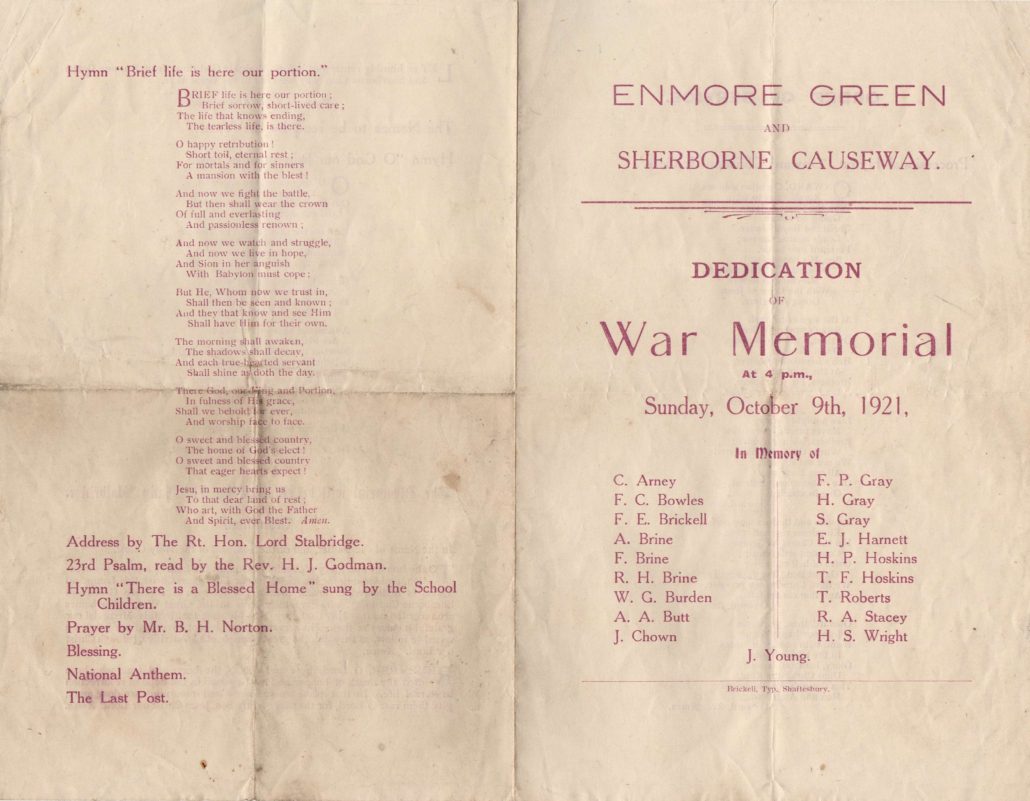 https://goldhillmuseum.org.uk/wp-content/uploads/2021/10/Enmore-Green-2-scaled.jpg
1632
2560
Ian Kellett
https://goldhillmuseum.org.uk/wp-content/uploads/2015/06/gold-hill-museum-header-90x380.png
Ian Kellett
2021-10-09 18:45:17
2021-10-09 21:50:16
Enmore Green War Memorial Unveiled One Hundred Years Ago