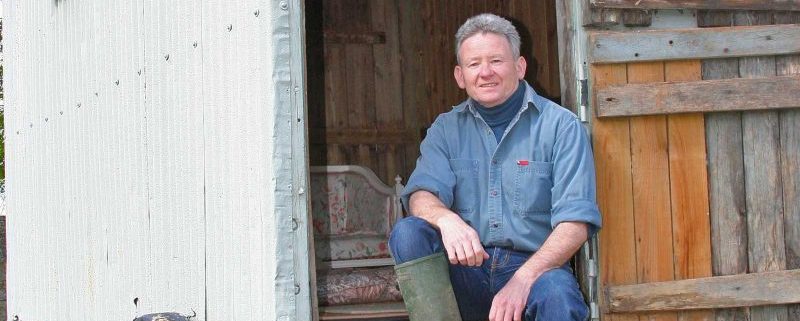 Learn How Shaftesbury Was Once The Centre Of Shepherd Hut Building
Shepherd huts are currently all over the home and lifestyle magazines. Celebrities are snapping them up and fitting them out with today's high-end luxuries. But originally, these shelters would have provided the most basic living conditions for agricultural workers. And the Shaftesbury area was full of them.
A forthcoming talk at Shaftesbury Town Hall will explain how our hilltop town was once at the centre of British shepherd hut production. Dave Morris has devoted much time to researching and restoring these structures. And he's authored a book on the topic. ThisIsAlfred.com's Keri Jones asked Dave to describe a shepherd hut.
"The simplest description is a small shed with a wheel on each corner and a curved tin roof. That sums it up in the briefest form, if people have seen one in a garden or at a country show," Dave explained.
The huts were used as a base for agricultural workers and Dave says that they could be considered the English, lowland version of the Scottish bothy – a refuge for mountain farm labourers. "In the very far north of England and Scotland, you are less likely to come across a traditional shepherd hut. That's because of the terrain. People would build a more permanent bothy," said Dave. "But down towards the south of England you see the more mobile shepherds' living quarters and it's interesting to see that the style changed with the region and the need."
Dave grew up in a South Somerset farming community and he remembers seeing shepherd huts from an early age. "I was aware of them. They were fun things. There weren't so many in Somerset because of the farming landscape and the way that animals were attended to but they were quirky, quaint little hideaway huts on wheels that could be towed from field to field. That appealed to me as a child. It was like a den on wheels," smiled Dave.
"And then, as I got a bit older, I became fascinated by them. I realised that they were dying out. In the 1960s, 1970s and early 1980s they became almost extinct. They were abandoned in corners of fields as farming changed. Pre-1970 farming almost resembled Victorian-era methods. Then by the 1980s, farming was becoming more intensive and the shepherd huts were abandoned and left to rot. Suddenly there were fewer of them around. That piqued my interest."
Shepherd huts were not so prevalent in Dave's home county. "Somerset has slightly different agriculture and a different landscape. It doesn't have shepherds in such high numbers as Dorset, Wiltshire and Hampshire. Terrain, as well as farming methods, affects whether you would have a hut on your farm. I'm still aware of the few places that had them around our area but nowhere near as many as you would have had around Shaftesbury," said Dave.
Our area of the Blackmore Vale and Cranborne Chase would have been filled with shepherd huts. "Absolutely. It's centre of the target," said Dave. "Anywhere from Sherborne, through the rest of Dorset into Hampshire and Wiltshire is one of the key areas where you would have been likely to see a shepherd hut being used in the 1700s,1800s and early 1900s."
Our area's most famous author, Thomas Hardy, featured one of the structures in his writings. "There's an immediate association in 'Far From The Madding Crowd' with the character Gabriel Oak and the shepherd hut. It's not there by accident. This is stuff that Thomas Hardy would have been very familiar with," Dave explained.
One of Britain's most prolific shepherd hut builders was based in our hilltop town. "The Farris Company, who made shepherd huts, was actually based in Shaftesbury. Farris probably was one of the biggest mainstream shepherd hut manufacturers through the 1800s. They were two brothers. They started in Combe Bissett near Salisbury. They set up their own respective companies and John Farris came to Shaftesbury. They made hundreds. They were probably one of the last companies to make them. Farris would be making them, or repairing the huts, until the late 1950s and early 1960s. They were certainly well-known and well-respected agricultural engineers. I don't know how many people were employed," said Dave.
What's the earliest reference to a shepherd hut that Dave has uncovered during his research? "The first written record is in the late 1500s in a manuscript, a book on animal husbandry. There's the classic line, 'the shepherd hut is a cabin going up on a wheel'. I found several image references from before then. The earliest is from 1363. Shepherd huts go back much further than the Victorian era – the time that people would initially associate them with."
Some people are passionate about sheds. There's even been TV programmes about that obsession. Does Dave believe that the addition of wheels puts the shepherd hut a cut above sheds?
"It certainly helps them stand out from any other shed. They can be moved from field to field, or from farm to farm. That's just their practical working need. But through that, they start picking up their own history, because they travel. It is interesting when you speak to people who have one. You learn the route it has been on. It's been to farm sales, it's moved farms, it's moved villages. It has seen different landowners. Often on the inside of the original shepherd hut there are scribblings and jottings left by the shepherds who have used it in the past. You might see lamb tallies – the number of lambs born in a particular year, or doodles about the weather. The whole object starts to have its own history which makes them a little more fascinating than any other particular type of shed," enthused Dave.
Shepherd huts have become very trendy recently. David Cameron famously spent £25,000 on a luxury model for his Cotswold garden. He already has one outside his Cornish holiday home. Dave says he's happy that shepherd huts are popular again.
"It pleases me that people are enjoying and using their huts in many ways. There seems to be no end to the innovative ideas that people are coming up with. That hasn't changed in nearly 100 years. It doesn't matter how you are using your hut, but there should be a nod of respect to how these were used back in the day when they were really tough living spaces. The shepherds would have been on the knife-edge of success or failure in any given year. That's really difficult living. Provided we don't lose track of that, it shouldn't stop us enjoying our huts, however we use them."
So is the audience for Dave's talks primarily male? There is that cliché that men are obsessed with sheds and shepherd huts are similar. "You're talking to a shed man here, definitely," Dave laughed. "It is right across the board. Men, women, children, everybody loves shepherds' huts. There's something about them. It's something that fascinates, attracts or is quaint, interesting or has a historical or useful link. There are so many interests."
Dave Morris's talk, delivered as The Shaftesbury & District Historical Society's Teulon Porter Memorial Lecture, is called 'The History Of The Shepherd's Hut'. It takes place at 7.30pm on Tuesday, 2nd October at Shaftesbury Town Hall. Historical Society members can enter without charge. If you're not a member, you can pay £5 on the door.
Copyright 2018 Keri Jones
https://goldhillmuseum.org.uk/wp-content/uploads/2018/09/David-Morris-at-the-door-of-a-shepherds-hut.jpg
500
800
Keri Jones
https://goldhillmuseum.org.uk/wp-content/uploads/2015/06/gold-hill-museum-header-90x380.png
Keri Jones
2018-09-14 15:46:03
2018-09-14 15:55:09
Learn How Shaftesbury Was Once The Centre Of Shepherd Hut Building