Shaftesbury Miller Meets Unfortunate End
Oxford Professor Steven Gunn gave a polished and pacy Teulon Porter Memorial Lecture to an appreciative audience in Shaftesbury Town Hall on 24 September. Based on his findings from the Everyday Life and Fatal Hazard in sixteenth century England Research Project, Steven was able to cite several local examples. Robert Mitchell was killed by a falling stone while admiring the ceiling of Sherborne Abbey. Jane Whyte of Chedington died after spending the night in a drunken stupor in a hedge on Rampisham Down. Closer to home, miller Leonard Pytman was dragged into the machinery of the mill at Anketil's Place.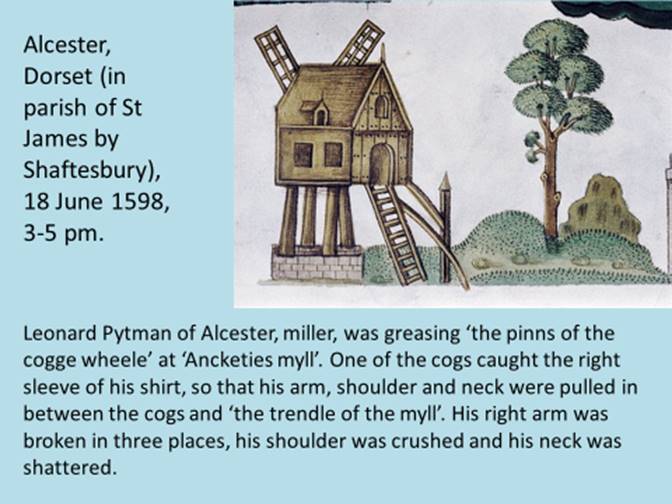 In response to questions from his "cheery and attentive audience" Steven explained that coroners' juries, consisting of between 10 and 24 men, had the body of the deceased in front of them at the inquest. As a result the coroners' reports often give graphic detail (in Latin) of the shape and size of fatal injuries. Yes, he was in process of writing a book about his analysis of the records from several thousand inquests; he had reached chapter five of sixteen, but would have to postpone further work once his students returned to Oxford. After a quick tour of Gold Hill Museum in the morning (where it was possible to locate Anketil's Place on the map of the 1919 Sale of Shaftesbury) Professor Gunn caught the train to resume his duties as Acting Warden of Merton College.
https://goldhillmuseum.org.uk/wp-content/uploads/2019/10/Steven-Gunn-at-The-Sale-of-Shaftesbury-Exhibition.jpg
3024
4032
Ian Kellett
https://goldhillmuseum.org.uk/wp-content/uploads/2015/06/gold-hill-museum-header-90x380.png
Ian Kellett
2019-10-06 14:50:43
2020-10-14 12:42:29
Shaftesbury Miller Meets Unfortunate End