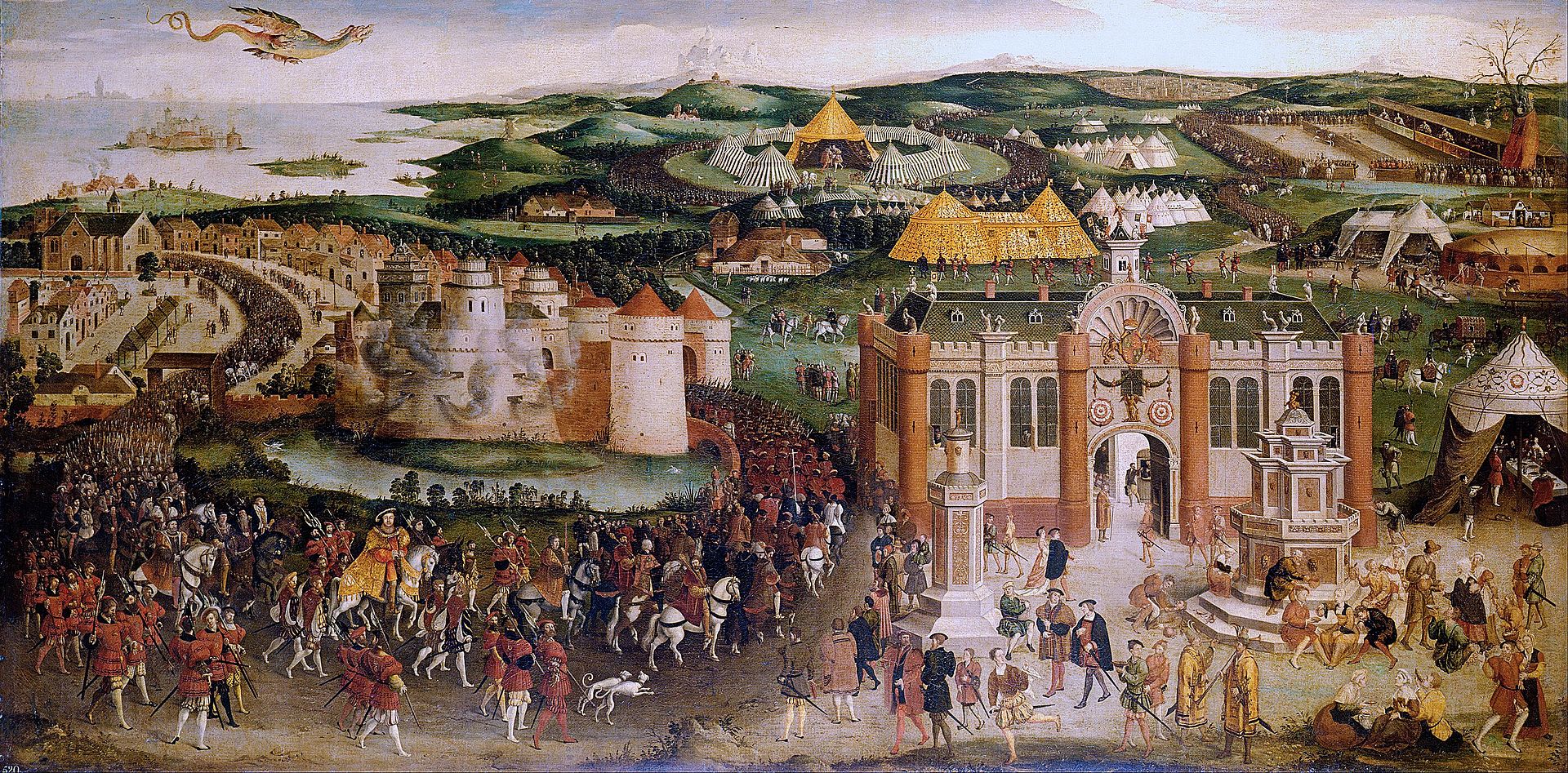 Five Hundred Years Ago to the Day ….
In June 1520 King Henry VIII of England met with King Francis I of France at The Field of the Cloth of Gold. This was a diplomatic summit, an international sporting event, a fashion parade, and a festival all rolled into one: a spectacular opportunity for the rich and powerful to show off. Both kings were in their twenties and eager to prove that they were ideal Renaissance Princes: physically fit, handsome, lavishly dressed, skilled in the martial arts, well educated, well mannered, devout and accomplished. They wished also to cement an unusual peace between two countries almost perpetually at war.
The anonymous painting from c.1545 depicts Henry VIII at the head of the English contingent, almost 6000 strong, leaving Guines on the edge of the Calais enclave. This was the last piece of English-held territory in France, finally lost in 1558. To his left, possibly on a modest clerical mule (or a long-eared horse) is Cardinal Wolsey, the organiser of the entire proceedings. Ahead is the temporary English palace, a mainly timber and canvas construction deceptively painted to look like stone and tile and lit by impressive arrays of stained glass windows. The two fountains are reported to have run with wine. Behind the palace are some of the hundreds of catering and accommodation tents, and towards the top right the tiltyard, grandstands and artificial Tree of Honour bearing the arms of the participants.
The tournament proper ran from 11 to 22 June 1520. Armoured individuals on horseback jousted across a wooden barrier, aiming if not to unseat, at least break their lance by striking their opponent. Unsurprisingly Henry and Francis topped the league with 6 broken lances each. Ace jouster Charles Brandon, Duke of Suffolk, was tactfully off-form. In the next stage of the tourney, more of a free-for-all, the two kings were paired as a team, as they were in the foot combat. They may have met in an unofficial wrestling bout, where a French source has Henry thrown by Francis. English sources remain silent.
The Abbot of Glastonbury was invited but not, apparently, the Abbess of Shaftesbury. Thomas Grey, Marquess of Dorset, carried the Sword of State in the procession and can be seen ahead of his king, but Grey owned 100 manors in 16 different counties and was buried in Warwickshire. His granddaughter was the ill-fated Lady Jane Grey. At a humbler level, the gentry of Dorset were represented by Henry and Giles Strangways, John Horsey and Sir Thomas Trenchard.
Amid professions of undying amity the event broke up on 24 June 1520. Within two years Henry had declared war on Francis. As John Fisher, Bishop of Rochester, commented (and is quoted on the Hampton Court Palace website) "Where be all those pleasures now? They were but shadows …"
https://goldhillmuseum.org.uk/wp-content/uploads/2020/06/The_Field_of_the_Cloth_of_Gold.jpg
947
1920
Ian Kellett
https://goldhillmuseum.org.uk/wp-content/uploads/2015/06/gold-hill-museum-header-90x380.png
Ian Kellett
2020-06-08 17:52:34
2020-06-11 21:14:57
Five Hundred Years Ago to the Day ….