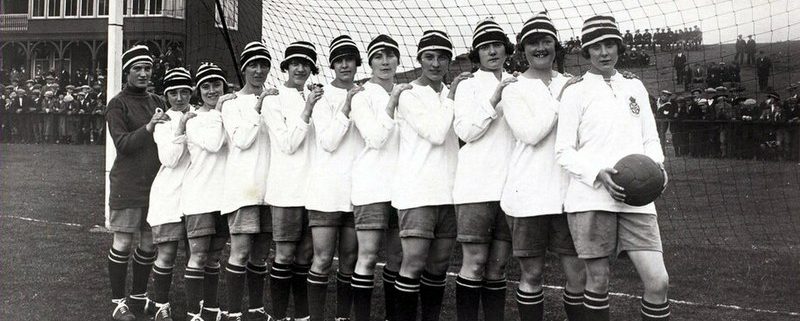 Thirty / fifty years of hurt? A century for women footballers
The Lionesses' superb victory in the 2022 Women's Euro Final at Wembley on 31 July ended a long barren spell for England in international football tournaments. In the lyrics of 'Three Lions on a Shirt', written in 1996, Baddiel and Skinner were lamenting the passage of thirty years since England (men) had won the World Cup. In 1966 women were still effectively banned from playing competitive football in any form, and had been so since 1921. As Dave Hardiman shows from his researches below, there was an enthusiasm for the game among women in North Dorset in the early 1960s, sufficient to attract the attention of the national Press.
Interest in playing and watching women's football was boosted by the upheavals of the First World War. The professional men's leagues were suspended and women moved into occupations previously barred to them. Dozens of women's works teams were formed and played charity matches, often in front of spectacularly large crowds. The most celebrated was Dick, Kerr Ladies of Preston, whose best players would have been stars in any era. Lily Parr (1905-78) was a strong and pacy winger, with a cannonball shot – "the best natural timer of a football" Bobby Walker of Hearts and Scotland had ever seen. The DKL team coach Alfred Frankland recruited shrewdly and paid ten shillings (50p) loss of earnings allowance to the players from any gate money before donating the balance to charity.
On Boxing Day 1920 DKL defeated St Helens Ladies 4-0 at Goodison Park, Everton, in front of a full house of 53,000, in a match for the benefit of unemployed and disabled ex-servicemen. In December 1921 the Football Association felt impelled to express the strong opinion that the game of football is quite unsuitable for females and should not be encouraged. The (FA) Council are further of the opinion that an excessive proportion of the receipts are absorbed in expenses and an inadequate percentage devoted to charitable objects. For these reasons the Council requests the clubs belonging to the Association refuse the use of their grounds for such matches.
So the male-run FA was saying, on the basis of no scientific evidence worth the name, that football was harmful for girls and women, and that if they insisted on playing, they would have to do so on park pitches, without registered referees. This fundamentally sexist ruling was not rescinded until 1970.
Dave Hardiman looks at the situation in North Dorset for women footballers in the 1960s. This piece was first broadcast on ThisisAlfred.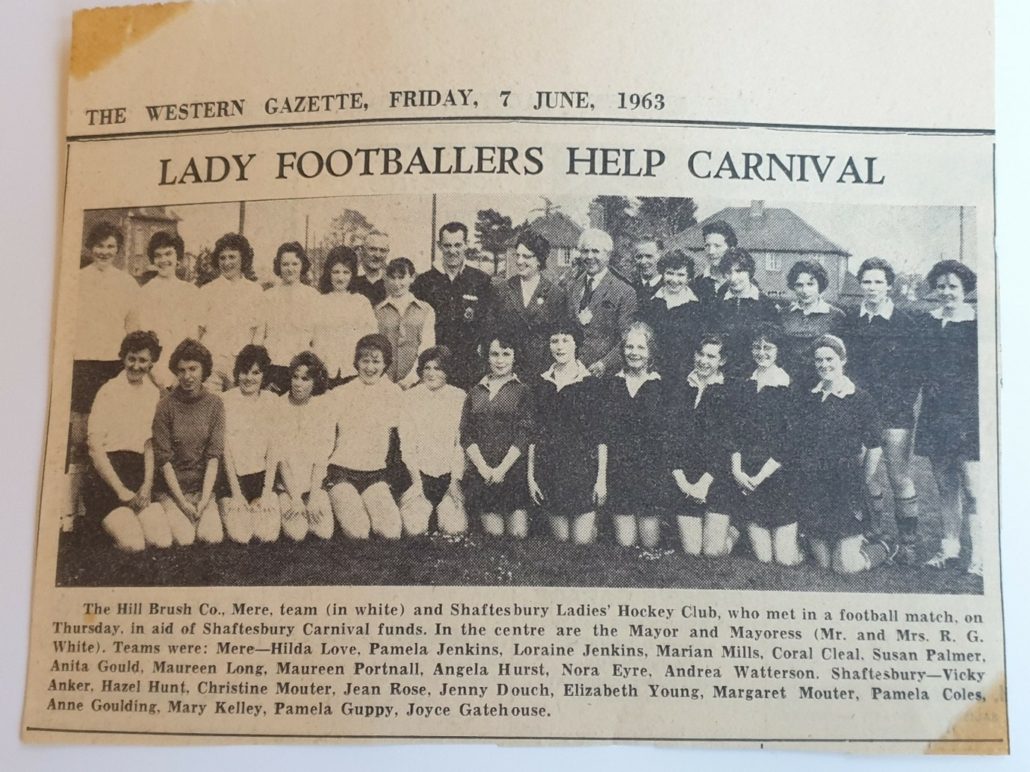 In 1962, Shaftesbury had a thriving ladies hockey team, but they decided to play a one-off game of football against a Mere Brush Factory ladies team. This was to coincide with Shaftesbury Carnival and the aim was to raise some money for the hockey club. Shaftesbury won 4-0 and £22 (£350 today) was raised for the club.
In fact, a team had been created a couple of years before in 1960 and was run by a lady named Jean Rose. They called themselves 'The Wanderers' and recruited players from Shaftesbury and Sturminster Newton. By 1966, they had not lost a single game.
Among team members at the time were Ann Goulding, Brenda Mullins, Margaret Mouter, Jenny Douch, Joyce Gatehouse, Lyn Trainer, Molly Rideout, Elizabeth Young, Jill Trainer, Ann Rawson, Patsy Haskett, Geraldine Davis and Jean Rose.
I should say at this point, that much of this story is taken from articles that appeared in the Daily Mirror in December, 1965, and the Daily Telegraph in November, 1966 (Just a few months after England's men won the World Cup for the one and only time).
Jean Rose was a 33-year-old machinist at the local glove factory. She was married to a motor mechanic, John, and had 4 children. As captain of the team, she said that it might be an idea if one day they did lose a game, "Then there wouldn't be all this silly giggling on the field'" which of course simply reinforced the sexist attitudes of the day, and that women's football shouldn't be taken seriously.
The Wanderers didn't play in a league, just occasional friendlies and raised money for various charities. As hockey players, they already had shorts, but they mainly borrowed shirts and socks from men's teams and, in one instance, from the Grammar School.
At the time, the Football Association frowned on girl players and would not let any ladies teams play on its pitches. The Wanderers lost one promising player because she gave in to her husband's view that the game was unladylike, which was a view shared by some other local citizens. Jean Rose said that "In a small town like this, you're bound to get that sort of thing. They kicked up another fuss when I organised an all-night jazz session".
The Daily Mirror's reporter wrote that the first Wanderer he met was 29-year-old right half, Geraldine Davis, whom he found ironing while watching football on the TV. Her husband was John, a lorry driver who wasn't that keen on football and preferred darts. They had 5 children.
Geraldine said that she liked to wear her spectacles when playing but, if they interfered with her heading the ball, she would take them off and carry them for the rest of the game.
The team's star player was their goalkeeper, 19-year-old Patsy Haskett, an egg tester in a local egg packing factory. Jean Rose said that Patsy could kick the ball from one end of the pitch to the other and, by November, had only let in 7 goals so far that season.
Sometimes the girls played against men's teams, and sometimes even beat them. In 1965, there was a men's team from Poole called Hillingdon Tyre & Battery who, at the time, were considered to be the worst men's team in the country. They were so desperate to win a game, they decided to play against a ladies team, thinking it would be easy to beat them. They challenged Shaftesbury's Wanderers.
Hillingdon were sure they would win, but the final result was Wanderers 7, Hillingdon 5 and the event was featured in the Daily Mirror on 28 December, 1965.
The Mirror reported that the Wanderers had turned up with only 9 players, so Hillingdon gave them their right back. The game was played in a good spirit with much barracking from the crowd, including some cries of "Kiss him – it'll slow him down", which of course would certainly not be very politically correct these days.
Hillingdon scored first, but Shaftesbury Wanderers were soon winning 3-1, with goals from the borrowed right back, 18-year-old student teacher, Ann Goulding, and an own goal. Hillingdon scored 3 more soon after half time, but then the girls scored 4 more times, with Hillingdon scoring a late consolation goal.
After the game, Shaftesbury's captain, Jean Rose, said that "this proves that women footballers deserve to be taken seriously"; although she received a letter from one man, telling her that she ought to be ashamed of herself. As for the Hillingdon captain, he said, "We'll try to live this down, and go on fighting for victory".
There was another match against a local men's team, which was really rough and messy. Jean said that she "got a nasty kick from the wages clerk, and he didn't apologise. I think he really meant it". She said that women footballers learn to accept the roughness of the game, though outbursts of tantrums and jealousy were not unknown. She said that the girls often incurred minor injuries and that she herself had twice knocked out members of the opposing team (accidentally of course).
The reporter for the Daily Telegraph was so impressed, he predicted that Shaftesbury Wanderers would be champion footballers of the season.
Although their footballing days ended many years ago, at least two members of Shaftesbury Wanderers are still active and in touch, and there may well be others who played, and see this, and remember those days back in the 60s.
As I mentioned previously, women's football has come a long way since those early days and today Shaftesbury Football Club has a thriving and successful ladies team, managed by James Higgins and his assistant, Dan Horsman.
Last season they finished 5th in the Dorset Women's League and reached the semi-final of the cup.
They train on Wednesday evenings at the football club.
You can also check them out on their Facebook page and other social media.
Now there's a sign of the times and how the world has changed.
https://goldhillmuseum.org.uk/wp-content/uploads/2022/08/Dick-kerr-Ladies-1925.jpg
477
800
Ian Kellett
https://goldhillmuseum.org.uk/wp-content/uploads/2015/06/gold-hill-museum-header-90x380.png
Ian Kellett
2022-08-05 21:04:15
2022-08-05 21:04:21
Thirty / fifty years of hurt? A century for women footballers